Service Update
Suspension of Postal Work
Due to low staffing levels, we are unable to currently accept Postal Work
We aim to resume in late September
Rhodium Plating White Gold Jewellery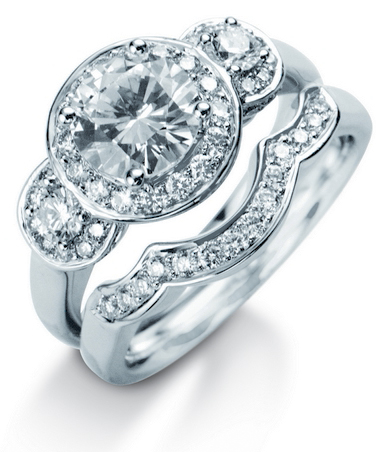 We offer a complete rhodium plating service within our own workshop which generally only takes a few days and will result in your white gold jewellery being restored to an as new condition.
As part of our rhodium plating service we will polish your item of jewellery to remove all scratches and traces of the old rhodium plating. It is very important to remove the old rhodium plating as this will give a very dull and patchy appearance if left on the item.
After the scratches and old rhodium plating have been removed your item of jewellery will be polished to a brilliant shine as the rhodium will only be as bright as the polished finish below.
After the polish has been completed, we then immerse the jewellery in to an electrolysis chemical cleaner to further enhance the item and remove any finger prints which can show as dark patches on your jewellery if not removed.
Finally we can now add the all important coat of rhodium plating restoring your jewellery to the day that it was purchased.
Our prices for rhodium plating are generally
£55.00
for most rings and other small items of white gold jewellery, unfortunately we are no longer able to rhodium plate larger items of jewellery.
We use a new formulated ultra bright rhodium plating which is far superior to the basic rhodium plating used by most.
If you would like to send your jewellery to us you may download our repair form below.
Our latest Reviews

Rhodium plating of a white gold eternity ring Really delighted, great service, great price and lots of contact. (20/10/2020) Kate - Bristol
---

Rhodium plating This is the second time I've asked Jewellery Workshop to carry out work & once again the service is exceptional. They let you know when your jewellery has reached them and when you can expect the work to be complete. Very happy & will use again. (20/10/2020) Rachael - York
---

Consistently good service I have been having white gold jewellery rhodium plated here for a while now. The service is consistently reliable, and the quality is excellent. I would highly recommend. (03/08/2020) Rose Wood - Wales
---

Extremely impressed. Fantastic, extremely prompt service and couldn't be more impressed with the quality of the work and my brand new looking white gold rings. Would have no hesitation in recommending. (14/12/2019) -
---

Excellent Service Thank you very much. My ring looks as good as new. Very fast service with great communication (14/12/2019) -
---

Excellent Service Thank you very much ring looks as good as new good communication fast service (01/05/2019) -
---

Perfect Had my wife's 3 year old engagement ring. I sent it Wednesday and it came back on Friday morning. It genuinely looked better than when I originally bought it. Amazing (09/04/2019) Joel - Buckinghamshire
---

Brilliant service Amazingly fast turnaround, posted my rings Wednesday afternoon and had them back Saturday morning looking as good as new. Great communication as well, thank you. (09/04/2019) -
---

Perfect! His and hers weddding bands, engagement ring and eternity ring (13years old) all sent, replated and returned within 5 days. Great service and they all look stunning. Thank you. (05/04/2019) Owens - Swansea
---

Outstanding A simple ring to plate but precious as my wedding ring! I was so pleased with the helpful, reassuring attitude, the speed of the service and the quality of the work. Not to mention the value for money. I wouldn't hesitate to use this team again; nor to recommend their services to anyone. (09/03/2019) CL - UK
---
Frequently Asked Questions About Rhodium Plating
Upon arrival we will advise you that your jewellery has arrived with us safely.

We will then inspect your jewellery of any issues that we find, and check if any of the gemstones or diamonds are loose. If we find any issues, we will advise you prior to starting any work on your jewellery. 90% of the jewellery we receive do not have any issues, and most of the items that we report on will just require the stones to be tightened.

Once we proceed with rhodium plating your ring, we will carry out the following steps.

1) Finely buff your ring to remove any scratches, or marks from wear.
2) Ultrasonic your ring to remove any soap or dirt from the back of the settings.
3) Polish your jewellery both inside and out using 3 different compounds using our 7-step process.
4) Ultrasonic again to remove polishing compounds.
5) Steam clean any diamonds to ensure they are fully clean.
6) Finally, the rhodium to give that brilliant look you had when the ring was new.
7) A final light polish with our special polishing compound imported from Japan.

Once quality control, or Gemma as we call her inspects your jewellery thoroughly, we will then parcel up your jewellery and contact you for payment.

Once paid we will dispatch by Royal Mail Special Delivery up to the value specified by yourself. We will email you the tracking number which will be live for tracking between 5pm and 6pm same day.
Although we can plate yellow gold rings, it is not something that we advise or encourage. With yellow gold rings, as soon as you scratch the ring the yellow gold will show through the white of the rhodium plating looking messy
We Rhodium Plate 2 to 3 times a week, depending on when your item arrives with us we would typically take 2 to 3 working days.
I am afraid that we are unable to rhodium plate costume jewellery as it contaminates our rhodium plating soloution. We are only able to rhodium plate silver and gold jewellery.
We can certainly rhodium plate earrings and pendants. Any item of yellow gold jewellery that does not receive a lot of hard wear is fine to be rhodium plated. The only item of jewellery that we do not recommend rhodium plating is yellow gold rings.
All jewellery is sent at your own risk so we strongly advise using an insured service such as Royal Mail Special Delivery. In 10 years we have not had a single parcel sent by Special Delivery lost or stolen in the post. All returned jewellery is returned by Royal Mail Special Delivery.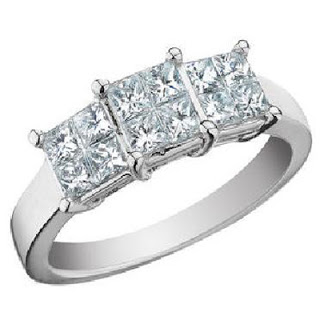 We are unable to work on, or rhodium plate.

The design of the ring is to give a larger show of diamonds for your money which does seem very good value. The way that this is achieved is by using 4 square diamonds and setting them under pressure so that they all hold each other in place.

The problem with this design is that as soon as a diamond comes loose, they can all fall out in one go and it is almost impossible to successfully reset them.

You can tell if you have this design of diamond ring by looking for the cross through the middle of what seems to be one diamond, you may even be able to feel the join with your nail. If you look at the image to the right, the ring would appear to be made up of 3 square diamonds. It is in fact 12 smaller square diamonds, but only held in by 8 claws which is not sufficient.

We are afraid that we are unable to work on, or rhodium plate any diamond jewellery that has this style of setting.

If you are unsure if you have this design or not, we are always happy for you to send us a photo to look at prior to posting to us.

If reading this on a mobile phone, please turn phone to horizontal to view an example picture.)
How we Rhodium Plate


So, what happens when we receive your jewellery for rhodium plating.

Upon Arrival

Our post arrives between 11am and 12pm most days, and upon arrival, a member of staff will open your parcel and visually check that everything seems ok, that the items are indeed there, that the accompanying paperwork is present, that we have contact details etc. Typically, the things you would expect us to do.

We only ever open 1 parcel at a time and complete the booking in process in full before opening the next. For this reason, it may take us a little bit of time to open all parcels, nut ensures that there is no mix up of customers jewellery.

Once happy the member of staff will either email you, text you or phone you to advise that your jewellery has arrived safely.

Prior to Rhodium Plating

The goldsmith will look very closely at your jewellery under 10x magnification to see if there are any issues preventing us from proceeding. If we find any issues we will advise one of the following.

Just advisory, this may be pointing out a bit of damage, wear or tear or similar prior to us working on the ring. At this point you will have the opportunity to advise us to continue or stop.

We may advise that additional work is carried out prior to rhodium plating. This may be a crack in the shank, worn claws, or the most common is loose stones.

That said 90% of rhodium plating jobs that we receive do not require any such additional work.

The process (Based on us rhodium plating a ring)

Once we start the process of rhodium plating we must prepare the ring prior to applying the rhodium. The rhodium is only as good as the finish that we can achieve, a dull polish results in dull finish, a dazzling bright polish results in a fantastic bright rhodium finish, so it is very important for us to achieve the best finish possible.

We spend about 90% of the time concentrating on the polishing, and only about 10% on the actual rhodium plating.

We need to polish all surfaces of the ring both inside and out using a coarse polish Tripoli polish, this will remove any scratches and most importantly the old rhodium. You cannot get a good rhodium finish plating over the old rhodium.

We then move on to the jeweller's rouge, and again polish both inside and out for a shiny finish. This is where most jewellers stop as the ring is shiny enough, however we can still improve on this polish and polish with a further two different polishing compounds.

Next, we polish with a green dialux polish especially designed for white precious metals, this makes the ring even more shiny.

If we feel we can improve upon the shine further, we use our very expensive secret polish imported from Japan and used by our internet company Titan Jewellery for polishing titanium and white metals. The finish on white gold is amazing after using this compound which is why we are so secretive about it.

Ultrasonic

We then ultrasonic the ring to remove all the polish, old soap and pastry from the ring, this is the point that any loose stones make themselves known. Any debris behind the stones acts like a cement holding the stones in, as we clean this away any loose stones will fall out. Therefore, we advise prior. If stones do fall out, it is a controlled environment and they are collected within the cleaning tank. We only ever clean items singularly, so there is never any chance of mixing up customers stones should this occur.

Any stones that do fall out, were going to fall out later, it is best we discover this in a controlled environment rather than they are falling out in wear.

Steam Clean

We will also steam clean all stones which removes any last traces of soap etc, and especially with diamonds makes them sparkle more. We however will not carry out this step if we have advised you of any loose stones.

The Rhodium Plating ProcessYour ring will be suspended in an electro cleaning tank to fully clean and degrease it. Even a finger mark will show up as a horrible patch if this step is not carried out correctly. Once removed will wash in de-ionised water without touching the ring.

We now finally get to do the rhodium plating.

Your ring is now suspended in the heated rhodium plating solution whist electrical current passes through the ring. The amount of voltage (less than 5 volts) and the time left determines the quality of the rhodium plating.

The ring is now inspected by 2 people to ensure the job is perfect prior to contacting you.