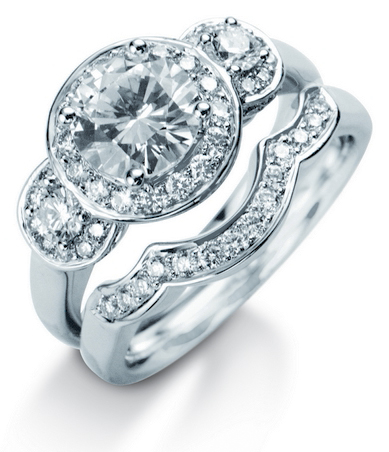 Rhodium Plating
We offer a complete rhodium plating service within our own workshop which generally only takes a few days and will result in your white gold jewellery being restored to an as new condition.

As part of our rhodium plating service we will polish your item of jewellery to remove all scratches and traces of the old rhodium plating. It is very important to remove the old rhodium plating as this will give a very dull and patchy appearance if left on the item.

After the scratches and old rhodium plating have been removed your item of jewellery will be polished to a brilliant shine as the rhodium will only be as bright as the polished finish below.

After the polish has been completed, we then immerse the jewellery in to an electrolysis chemical cleaner to further enhance the item and remove any finger prints which can show as dark patches on your jewellery if not removed.

Finally we can now add the all important coat of rhodium plating restoring your jewellery to the day that it was purchased.

Our prices for rhodium plating are generally £22.00 for most rings and other small items of white gold jewellery, and £30.00 for larger items such as heavy bracelets etc.

We use a new formulated ultra bright rhodium plating which is far superior to the basic rhodium plating used by most.

If you would like to send your jewellery to us you may download our repair form below.


Download Repair / Rhodium Plating Form
If you would like to send your jewellery to us you may download our repair form below.

Download Repair / Rhodium Form requires Adobe Acrobat Reader

Download Here

Common questions about rhodium plating.
Q

Can you rhodium plate my yellow gold ring so that it is white?



A

Although we can plate yellow gold rings, it is not something that we advise or encourage. With yellow gold rings, as soon as you scratch the ring the yellow gold will show through the white of the rhodium plating looking messy.
Q

How long does Rhodium Plating take?



A

We Rhodium Plate 2 to 3 times a week, depending on when your item arrives with us we would typically take 1 to 3 working days.
Q

Can you rhodium plate base metal costume jewellery?



A

I am afraid that we are unable to rhodium plate costume jewellery as it contaminates our rhodium plating soloution. We are only able to rhodium plate silver and gold jewellery.
Q

Can you rhodium plate my yellow gold diamond earrings and pendant set?



A

We can certainly rhodium plate earrings and pendants. Any item of yellow gold jewellery that does not receive a lot of hard wear is fine to be rhodium plated. The only item of jewellery that we do not recommend rhodium plating is yellow gold rings.
Q

How should I send my jewellery to you?



A

All jewellery is sent at your own risk so we strongly advise using an insured service such as Royal Mail Special Delivery. In 10 years we have not had a single parcel sent by Special Delivery lost or stolen in the post. All returned jewellery is returned by Royal Mail Special Delivery.
Q

Could you tell me about the rings on your rhodium page, and if they are available to purchase?




A

The rings pictured on this page are certainly available on a made to order basis but are not available to purchase on the website due to the value of the items. Prices below are correct as 12th October 2010. Prices can fluctuate due to precious metal prices, diamond prices and the $ to £ exchange rate.
Engagement ring is set with a 1.00ct centre diamond and outer diamonds that total 0.64ct making a total of 1.64ct (almost 1 2/3 carats) the diamonds are colour F/G and clarity SI/VS.

Price in 18ct white gold £7465
Price in Platinum (950 quality) £8240

Wedding ring is set with 0.13ct of diamonds colour G clarity VS

Price in 18ct white gold £600
Price in platinum (950 quality) £1115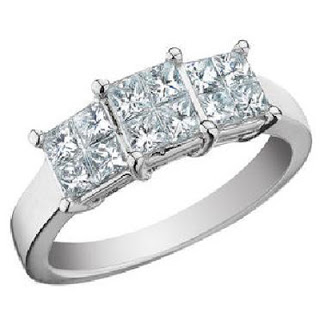 Q

Can you size and rhodium plate my illusion set square diamond ring?
A

I am afraid that this is about the only design of ring that we are unable to work on, or rhodium plate.

The design of the ring is to give a larger show of diamonds for your money which does seem very good value. The way that this is achieved is by using 4 square diamonds and setting them under pressure so that they all hold each other in place.

The problem with this design is that as soon as a diamond comes loose, they can all fall out in one go and it is almost impossible to successfully reset them.

You can tell if you have this design of diamond ring by looking for the cross through the middle of what seems to be one diamond, you may even be able to feel the join with your nail. If you look at the image to the right, the ring would appear to be made up of 3 square diamonds. It is in fact 12 smaller square diamonds, but only held in by 8 claws which is not sufficient.

We are afraid that we are unable to work on, or rhodium plate any diamond jewellery that has this style of setting.

If you are unsure if you have this design or not, we are always happy for you to send us a photo to look at prior to posting to us.